There is not only the Google Play Store to get cool apps on your smartphone! It is possible to download an Android APK application thanks to a specific file. Admittedly, the maneuver is slightly more complex than clicking on an "Install" button, but it allows you to benefit from new and sometimes indispensable tools.
Using an Android APK application means offering yourself a wide choice of mobile software. You can take advantage of apps unavailable in the app store or in beta version. So, how to download and install these file packages? We tell you everything!
What is an Android APK application?
APK is the abbreviation for Android Package Kit. This file format is used by Android to distribute and install applications. It contains all the necessary elements for an application to work properly on your phone. Just as Windows systems use an .exe file to install software, the APK does the same for Android. In other words, when an Android developer finishes creating an Android application, it is the APK that will allow it to be installed on your phone.
An APK is also an archive file, like ZIP and RAR files. This means that it contains several folders, as well as useful metadata for the application. It turns out that APKs are a variant of the JAR (Java Archive) file format, as a large part of Android is built with the Java language.
All APKs are basically ZIP files, but they need to contain additional information to work properly. So all APKs are ZIPs… but not all ZIPs are APKs!
An Android APK application therefore requires the installation of this archive on your smartphone in order to function properly.
Why install an Android APK application ?
There are several reasons to download an APK application on your Android smartphone:
To get an exclusive access to a new Android version
Install an application that is not available in your country via the Play Store
Download an update in advance
Test an application before it is put on the store
Reinstall the old version of an app (because the update does not suit you or is not compatible with your smartphone)
Install applications when you don't have access to the Google Play Store
How are APK files created?
When a developer creates an Android app, he usually uses Android Studio. Once the app is ready, the IDE compiles it and places it in a container which is nothing but an APK file.
APKs can have any name, but generally must retain the ".apk" file extension so that operating systems know how to interpret them. When you open an APK, it contains installation instructions and provides information to your device. This allows it to interpret the data and translate it into an application.
When you download or update an application on Google Play, it automatically installs the APK. So the app store acts as a package manager.
However, due to the open nature of Android, Google Play is not the only way to find and install APKs. It's easy to get an APK file via another platform and install it manually. We tell you how in the rest of this article…
How to download an Android APK application?
To download an Android APK application on your smartphone or tablet, go to your web browser.
Download the application of your choice.
From the notification bar, tap on the downloaded file and install it.
If your web browser refuses to open the file after downloading, check your file explorer. Go to the "Downloads" folder of your device, you should find the APK.
In order for it to install as well as possible, remember to read the requested permissions carefully and to grant those that are essential.
How to authorize the installation of an APK file on Android?
Because the Android APK application does not come from Google Play, the operating system or your browser may refuse its installation on the phone. You must first give access to these so-called "unknown" applications.
Here's how to do it:
Go to your device settings and tap on Applications & Notifications.
Click on "Chrome" or the browser you will use to download the Android APK.
Press Permissions and enable the "Allowed" slider to allow installation of applications from this source.
On some Android smartphones, you must:
Go to "Settings" then "Security".
Then click on "Unknown sources" to allow the installation of applications not from Google Play
It is also possible to grant access to your application after downloading the apk from your browser. By clicking on the downloaded file to install it, you will be asked to authorize, beforehand, the installation from unknown sources.
You should also remember to disable the verification functions offered by Play Protect. The tool may uninstall your Android apk application because it is not from the official app store.
Use an Android developer to create an APK application
Want to create your own Android APK application? Our advice: call a freelance developer, specialized in Android!
An Android developer is responsible for designing and creating applications for devices running this operating system. These Android apps are usually written in Java, but he can choose another programming language depending on your needs.
This coding freelancer mainly handles the development process by creating the features of the app. He also designs the user interface with a specific path, favoring the navigation and experience of the user. The objective is to guide him to perform the expected actions.
The Android developer is in charge of creating the architecture of the app by writing a clean code. His role will also be to minimize or remove bugs that may come from the Android apk application. By calling on this professional, you benefit from a quality app and you guarantee the security of your data.
How to choose a developer for your Android APK application?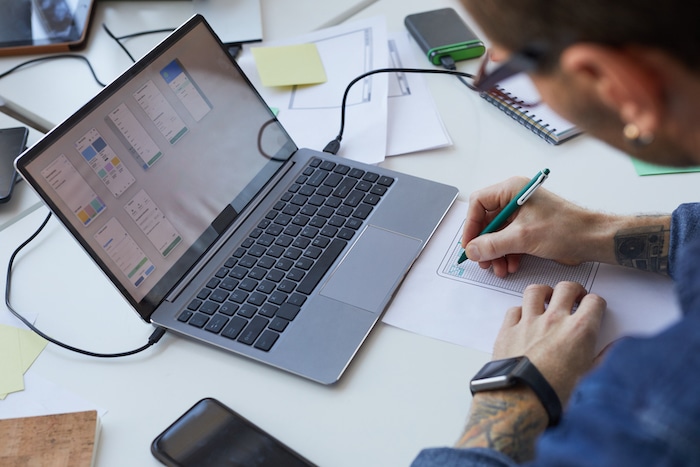 To choose the right Android developer for your APK application, here are some criteria to check:
Knowledge of programming languages
Programming languages like C, C++, C#, Java, Kotlin or JavaScript are important for any Android developer.
Java: it is the official language of Android development and is supported by Android Studio.
Kotlin: this is the new official language of Android. It is similar, but easier to code than Java.
C++: Android Studio supports C++ in combination with Java NDK. It is used for creating games. Some developers like to use it to build certain elements of an application.
C#: This language is a more user-friendly alternative to C and C++. It is also less difficult to learn than Java.
JavaScript: it allows to create applications using the same code as the one used to create a website.
A professional developer must master at least 2 of these languages.
Additional software knowledge
In addition to programming languages, your Android developer should have other technical knowledge, such as:
A mastery of databases
The knowledge of databases is important for any Android developer. The latter should master the most popular ones like MySQL, PostgreSQL, Redis, MongoDB, MariaDB, SQLite.
SQLite remains ideal for mobile applications and useful for permanent data storage.
Knowledge of Android Studio
Android Studio is an integrated development environment (IDE) in which Android applications are developed. It provides the tools to quickly create an apk for each type of device running this operating system.
To work with Android Studio, you need to know XML for design and Java or Kotlin for writing code.
Knowledge of the Android SDK and the different versions of Android
SDK stands for "Software Development Kit". It consists of Java code modules that allow developers to access smartphone functions such as the camera, contacts or GPS.
There are many versions of Android, so a freelance developer must keep up to date. This will allow him to create an application suitable for all users.
Knowledge of the different APIs
API stands for "Application Protocol Interface" (Application Programming Interface). It allows communication between different programs. For example, if you want to add the weather to your application, you have to use an API.
The Android developer should also be aware of the hardware design guidelines set by Google to avoid your APK being considered a threat to mobile users.
Soft skills
Beyond technical skills, the Android developer of your choice must have certain human qualities, including :
Communication skills
Developing an application is a team effort. The developer will have to exchange regularly with you or your team. The ability to listen, as well as the ability to respond to needs, remains an essential element in the creation of a successful Android APK application.
Attention to detail
The developer will have to write hundreds of lines of code. If a character or a letter is not correct, the code will not work. Attention to detail will allow him to design a bug-free application within the given time.
The ability to adapt
The world of mobile applications is constantly changing. New programming languages may appear, standards may change and software may evolve. An application developer must be able to adapt.