Do you dream of developing your own mobile App?
To go from dream to reality, you will have to overcome many obstacles in order to propose an intuitive application, which will interest your target.
Here are the 10 essential steps to develop a high quality mobile App.
Why is it important to segment your mobile app development into steps?
If you have in mind the idea of creating an app to develop your business or services, we strongly advise you to start this project by listing the steps to create your mobile App.
For a project of this size, this segmentation will allow you to be organized, to respect your schedule, to know who does what, but above all, to be able to measure your progress.
Segmenting the development stages of your app is also a good way to have a common thread to hold on to when you get lost along the way.
Here are the different steps we advise you to follow to complete your mobile app development project.
Develop your mobile App in 10 steps
Step 1: Validate your mobile App idea
This step involves making sure that the app you want to develop will fill a need. For example, you can use Google Keyword Planner (or other keyword research techniques) to get information about how many people are searching for your idea.
If there is indeed a demand, the queries made will provide you with a list of keywords useful for SEO of your application. They can be placed in the description on mobile stores, but also on the landing page of your website.
Step 2: Describe your project
In writing, describe your application project in detail. The more detailed your draft, the easier the next steps will be.
Give as much information as possible about the various functionalities of your future application, on all technical and aesthetic aspects.
Step 3: Define your branding and visual identity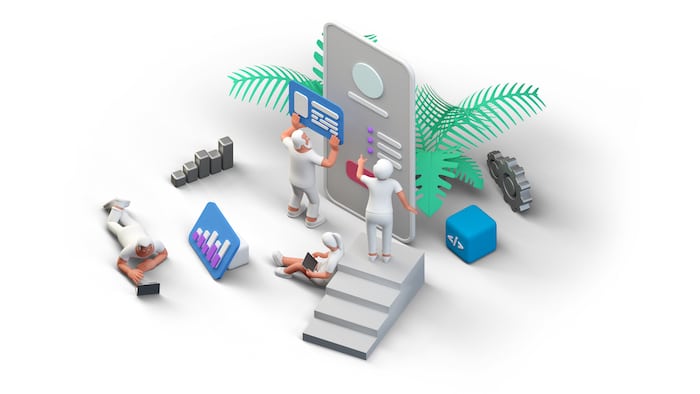 Your branding should be at the heart of the development strategy. It is a necessary step to create your mobile App. You must define your brand image before starting the development process of your app. We can even say that your brand image guides its creation since it allows you to create a singular universe in which your users will enjoy navigating. It is an integral part of your user experience.
Branding represents both the missions and the values defended by a company. It is also what makes it unique. The visual identity that will result from your mobile App will also be a good way to create a sense of belonging and attachment to your brand for the users of your app.
Step 4: Eliminate non-essential features
In the very first version of your application, include only the essential features and leave out everything that is secondary.
To this end, take a close look at your application prototype and identify all the features that can be set aside, keeping only the high-value options.
Optional features can be added in later updates. This will help you to control the development costs of your application.
Step 5: Give the application design the highest priority
Don't give in to the temptation to go for a basic design in order to spend more time and resources on developing features. That would be a mistake!
Design is of paramount importance, as it is not only a matter of aesthetics, but also a valuable way to improve the user experience.
Remember, your app must be downloaded AND used to become profitable.
Step 6: Prepare a summary of your mobile app for developers.
Produce a document in which you mention the circumstances that inspired you, your target audience, and the usefulness of your app to the audience. The features of the app, the prototypes as well as the budget you have should also be part of the document.
In summary, if it's not done, complete your specifications Start in step 2 with your sources of inspiration, your objectives and the budget you have available.
Share this document with the developers to get a quote and a time frame for completion. However, when reviewing quotes, don't just look at the price. Consider the time frame, guarantees and experience of the provider.
Step 7: Find the right developer for your mobile app development
Once you've finished writing a well-crafted specification, you can move on to the step of choosing the right mobile developer to work on your project.
You should know that there are many platforms that put freelancers and project owners in touch with each other.
Step 8: Integrate analytics into your mobile App
You'll definitely need a way to track your app's stats: number of downloads, engagement rate, reviews, usage time, etc.
Plan to use tools such as Flurry, Countly, App Analytics or Mixpanel.
Next, it is important to perform tests. Applications with bugs are not always successful, that's why it is essential to test your application with your future customers and your target. If your application is intended for Android and Apple mobiles, consider testing both versions.
Take into account user feedback, whether it is on the interface, features, etc…
When you launch your application, it will benefit from this feedback!
Step 9: Promote your mobile App
So you're finally ready to launch your mobile app? Now it's time to start promoting it to get new users and new customers! To boost your notoriety, many solutions are available to you, whether on the web or offline!
On the one hand, you can prepare a press campaign. We advise you to start by writing a solid press release and to list the different relevant media to contact according to your activity (local press, online media or TV news).
To increase your chances of making your mobile App known we also advise you to go through the creation of paid advertising campaigns. For this, you can set up traffic campaigns on Google Ads and Facebook Ads.
Finally, another effective solution is available to you: influencer marketing campaigns. They will allow you to make your mobile App known via Youtubers or influencers by reaching many potential users.
Step 10: Ask for consumer feedback
Once your product is live on the Google Play Store and/or App Store, user reviews, especially during the hands-on phase, will provide valuable insights to optimize your app.
You will know what changes or improvements to make to your product. Think of providing notifications, during use, to invite mobile users to rate and leave a comment on your application.
Don't neglect ASO (App Store Optimization) either, so that your app is more easily found and downloaded by users.
Our tip to create your mobile app faster
Ready to launch your own mobile app? How about skipping steps by hiring a freelance mobile developer?