You want to create a mobile App without using a developer and you don't have any technical knowledge in this field?
Don't panic, there are turnkey solutions to generate your own application very simply and in a few minutes, without needing to be a development professional.
Here is a list of 20 application generators to create your own app very easily.
1. GoodBarber : the reference to create your mobile app
GoodBarber is a real reference in the field of mobile app generators.
This French tool has made a name for itself thanks to its very aesthetic templates, the simplicity of its editor and its accessible prices. GoodBarber is also at the forefront of Progressive Web Apps.
The price: GoodBarber is available from 40 $ / month with already very satisfying features, including 500 000 push notifications per month. The higher packages will however make you benefit from many functions like automatic notifications, or a statistics tool.
2. Appligo : the mobile App generator
AppliGo is a mobile App generator that is easy to use and has a responsive support.
The price : For 5 $ / month, you can benefit from a complete native application, except that it will not be available on the app stores (Google Play or iOS), which is quite disabling. So prefer the formula at 15 $ / month, more satisfactory.
3. Swiftic : app creation at low cost
Swiftic is one of the leading application generators on the market.
Its powerful editor and its many features make it a tool of choice. Available in French.
Price: The price varies according to the length of your commitment. For 1 year, the rate is $48 / month.
4. Appsbuilder : create your mobile App without code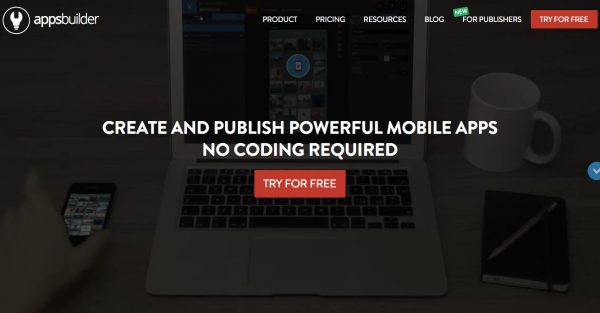 With its drag and drop application creation tool, Appsbuilder is one of the most intuitive and user-friendly platforms for developing an online application.
The price : Count at least 29 $ / month to be present on app stores and benefit from essential features.
5. AppMachine: a creative solution to create an app
With its original editor in the form of Lego blocks, AppMachine is a very powerful solution to create your application without developers or any knowledge.
The price: You can build your app for free by taking the time you want. You only pay when the application is online. For that, count at least 39 $ / month, plus 99 $ / year to be able to publish your application on the Apple Store (and 25 $ at once for Google Play).
6. Bizness Apps : the application integrated to your CMS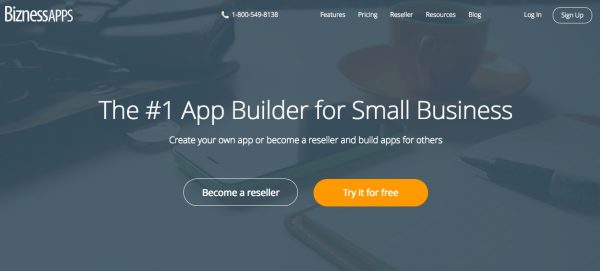 The great strength of Bizness Apps is the number of external tools that can be incorporated into its application: from Magento to Instagram through MailChimp. It allows you to easily send push notifications or set up a loyalty program.
This app generator has been designed for business (as its name indicates).
The price: For a single application, it will cost $59/month ($42 with a one-year commitment).
7. Shoutem: create mobile app designs
Shoutem is a well thought out app creation tool with very slick designs, but it's probably less accessible.
Price: The $19.90/month plan does not allow you to publish your app on the app markets (Apple and Android). And the superior formula is $49 / month.
8. Mobile Roadie: app creation for large companies
Mobile Roadie is rather intended for the creation of application for large organizations.
And, for good reason, it offers very advanced features such as geo-targeting of the application content, marketing automation, community and social functions…
The price: Prices are custom, but Mobile Roadie is known for its rather high prices compared to its competitors.
9. Mobincube: accessible application creation
Mobincube is a mobile App generator that is accessible to all, both financially and technically.
The price: There is a totally free version. The problem is that your app will have to contain ads (including an introduction presenting Mobincube). For a more professional result, you should at least choose the 9.99$/month plan. Still very accessible, then.
10. Siberian : the open source mobile App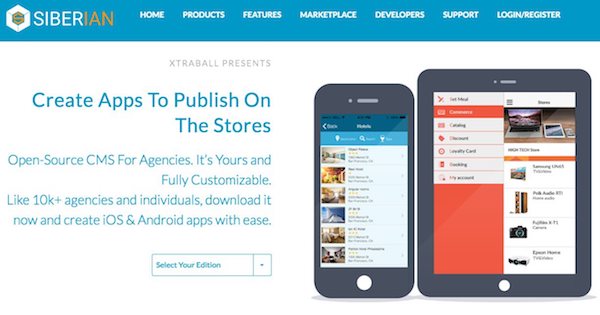 Siberian is an open source CMS to create a free application.
The price: Free!
11. Appy Pie: the easiest way to create your mobile app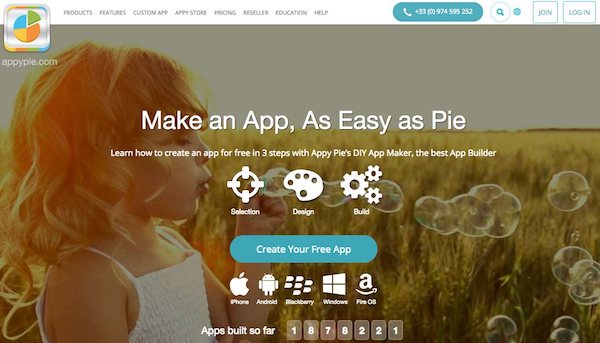 Based in India, Appy Pie's promise is that of easy as pie mobile app creation.
Price: Starting at 14$/month per app.
12. PandaSuite: an intuitive creation platform
PandaSuite offers you to create your application without coding thanks to a very intuitive drag and drop interface. Take advantage of its component library to add animations to your application.
The application can also be connected to an internal or external data provider.
The price: PandaSuite offers to create and test your application for free. However, you will have to pay 79$ per month to publish your PWA or 99$ per month for a native application.
13. Buildfire : create your iOS or Android app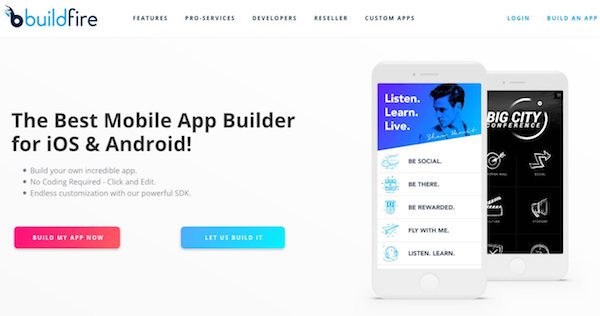 BuildFire allows you to easily build your iOS or Android app with a high degree of customization.
Price: Starting at 159$/month for a PWA, iOS or Android app.
14. MobAppCreator: create your native mobile app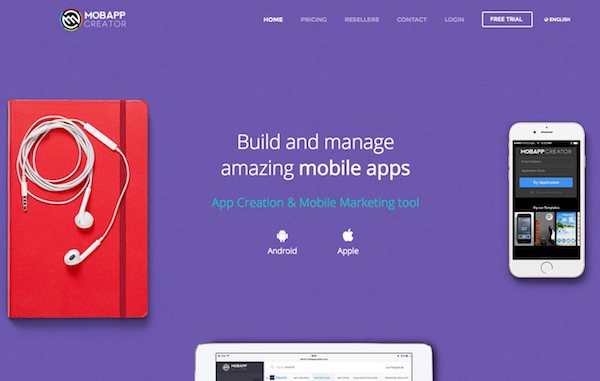 MobAppCreator is a very good tool to develop your own native application with ease.
The price : Count 24,17$ /month for a native Android application and 40,83$ /month for a native iOS application.
15. Appsmakerstore : application creation by template
AppsMakerStore works in a special way: you choose a template and add the content and branding of your choice, then the platform team takes care of creating your app.
Price: On demand.
16. Appsheet: no code application creation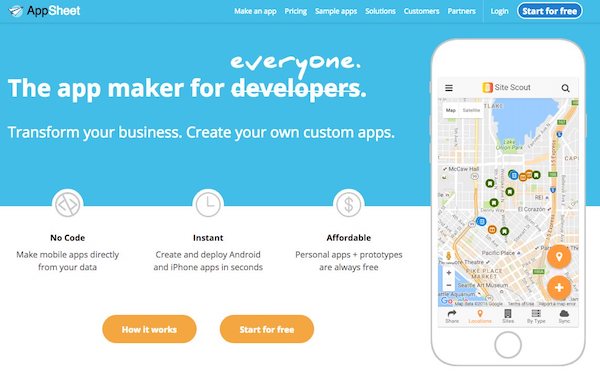 Appsheet is the mobile App generator for everyone: instant and affordable, it also requires no knowledge of code.
Price: Starting at $5/month.
17. Appsmoment: flexible rates
AppsMoment is a complete tool to create your app, with flexible pricing (from a limited free version to almost $200 / year).
The price: The monthly plan starts at $9.
18. iBuildApp: mobile Apps in all fields
iBuildApp allows you to create applications in various domains (education, health, business…) and offers three distinct price plans.
The price : From 59,40$ / month.
19. AppInstitute: the practical application generator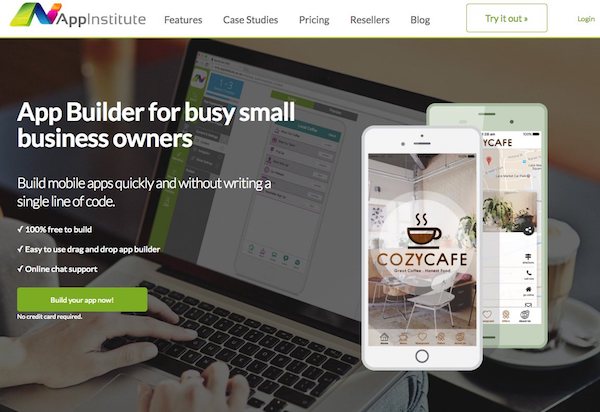 AppInstitute is a handy mobile app generator with a drag and drop editor, which can be adapted to all kinds of activities.
Price: Rates start at $42/month for a Progressive Web App.
Glide, a powerful but easy to use no-code application creator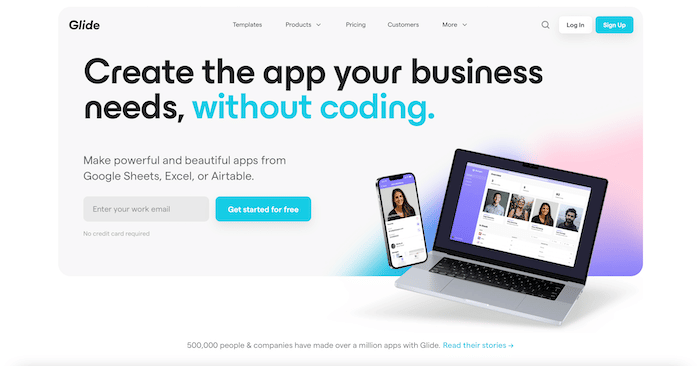 Glide is a new tool that allows you to create applications without learning to code. This can be very useful if you have an idea for an application, but don't have time to learn how to make it happen.
Glide provides a powerful and user-friendly way to create and manipulate databases without having to write code. While you can obviously take the data you store in Glide and do whatever you want with it, Glide focuses on providing a visual interface for interacting with your data, especially if you have no coding experience.
Glide is based on Google Sheets which means that it gives you all the power of Google Sheets and allows you to visually interact with your database through the Glide interface.
Glide is here to help you. You may think that a database is something only engineers can use. But it's not as hard to use as most people think. It's just another place to store your information, like a spreadsheet, but instead of using a visual interface like rows and columns, you access it through the command line. Of course, for many applications, you need more than a spreadsheet can provide.
Glide is not limited to displaying and interacting with your data. It also offers components that allow you to display your data in different ways: maps, calendars, user lists, etc. These components can add a lot of functionality without having to code yourself.