Smartphones are now real tools of daily life. It is used several hours a day and now allows to manage everything directly through its interface thanks to various applications.
More and more companies want to develop a mobile App on the Google Play Store or Apple Store for iOS systems related to their business, but also full-fledged apps from a concept or an idea.
The goal being to get it adopted by as many people as possible to make it popular and alive. Not everyone who has the right ideas for developing an application has the required coding skills. A difficulty that can make the development of the code difficult both by its cost and by the various technical constraints that must be taken into account.
Is it possible to create a mobile App without coding?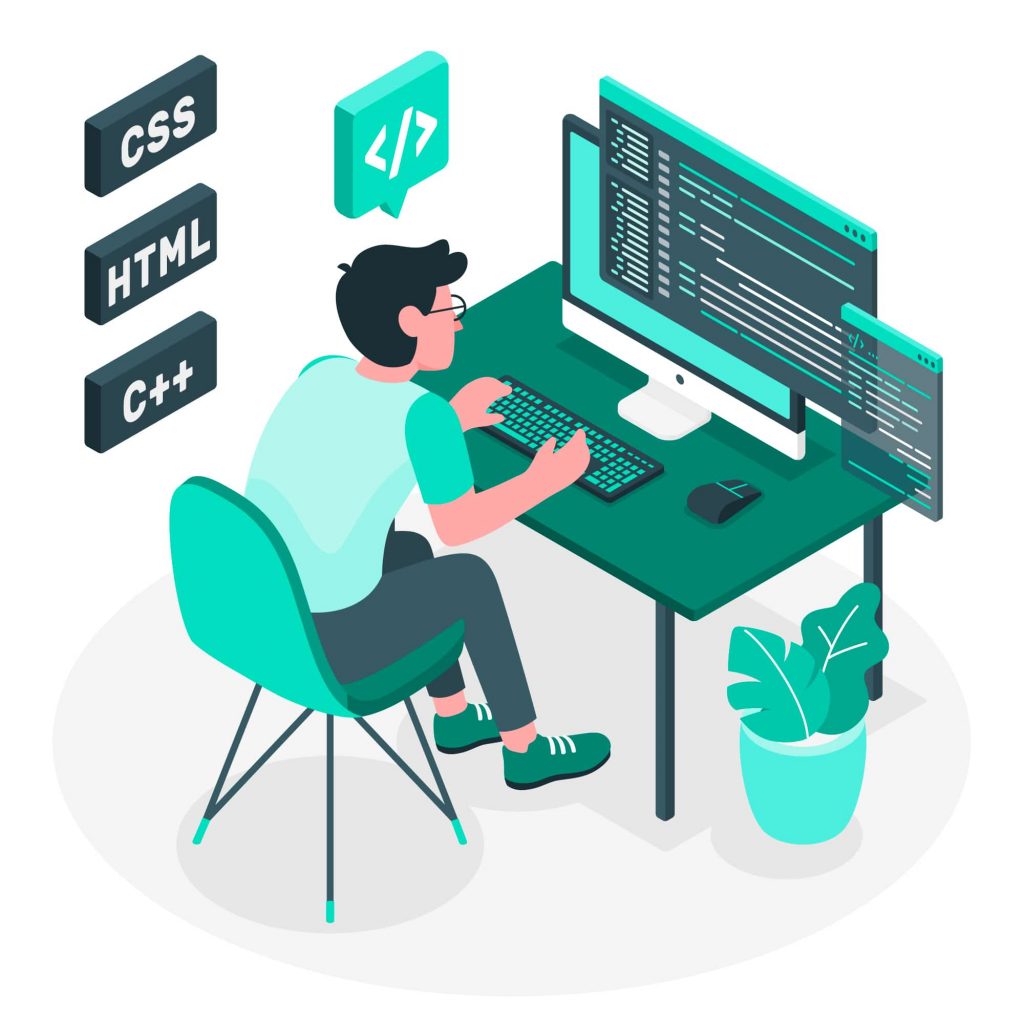 If you are looking for a clear and quick answer, yes it is quite possible to create a mobile App from scratch and publish it on the web without having any particular technical skills. Many online tools exist and offer a wide range of interfaces and features that you can directly integrate into your application to facilitate the design at low cost.
The whole thing is very intuitive and is mainly aimed at people who want to launch a first application without having to invest a lot of money in it. You don't need to hire a mobile-oriented digital agency, you just have to register on a platform and it gives you access to all the tools you need to create your application.
What to do before launching the development of your application?
Before launching the development of your application, it is necessary to have a very precise idea of the type of project you want to launch.
Your application must above all meet a need and must be established following an analysis of internal and external strategy relating to the market. Once the market study has been validated and established, all you have to do is set up the global architecture of your application and turn to one of the many application generators that allow you to reach your objective.
For a custom application, you can also turn to freelance developers who offer much better quality for your application and allow you to customize everything you need so that your project looks every bit like what you had planned.
The constraints of creating a mobile App for free
Creating a mobile App in a totally free way still requires to have some basics in the field in order to be able to correctly build the architecture of the application on a software platform.
It is therefore necessary to know basic concepts at each stage of the project such as the principle of operation of a database or a user account in order to be able to create a functional application in good conditions.
Another constraint is that the possibilities are limited to those offered by the different tools available. If you want a particular functionality, then you may not find what you are looking for directly and you will have to call on a third party in order to be fully satisfied with your project.
The development is no longer free, so you have to know how to weigh the pros and cons of a free application development.
Hire a freelance mobile developer
All you have to do is to present your project in the form of an assignment and explain your project in its entirety. The idea is not to provide all the details before you have selected the right person. Following your ad, freelancers will contact you directly and offer you their services, but also the price they want to charge for the mission.
The advantage of using a freelance is by far the rates which are much more advantageous than in a specialized agency and which allow to launch projects in a much easier way. However, not all freelancers are reliable.
Indeed, the platform guarantees the quality of its freelancers. In a few clicks, you can consult the opinions of previous clients of all the professionals who contact you. Moreover, the platform remains your best ally and allows you to secure the information related to your project, but also your money.
You can make your own idea of what the platform can bring you in a totally free way, because the deposit of the project is not charged. You are free to consult the different proposals that are made to you and to make your own opinion of the rates and technical capabilities of our freelancers.
If you want to develop a mobile App without coding for example, then calling a freelance mobile developer remains by far your best solution. Only he will be able to provide you with a complete and customized development at a really advantageous rate compared to those charged by agencies.
The different tools to create a mobile App for free without coding
If you want to develop your mobile App for free without having to code, you can turn to application builders who will generate the code for you completely free of charge. All you have to do is create your application using the different tools at your disposal before generating it and you're done. To make things easier for you, here are the different free tools that we have specially selected for you.
Siberian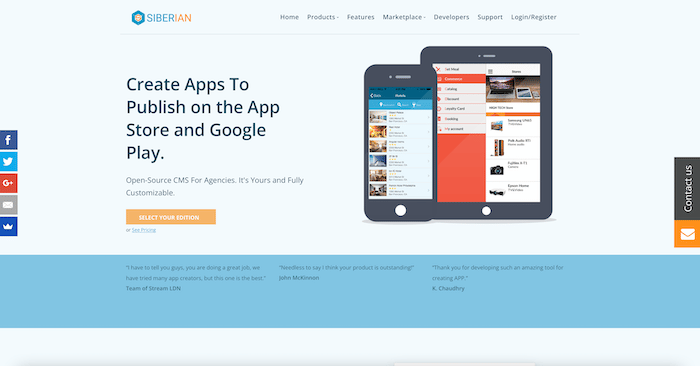 Siberian is a tool that offers its users the possibility of creating an application completely free of charge. The tool is very complete and allows you to integrate a multitude of features. However, it is not possible to create an application directly on the platform. A client must be installed locally in order to develop the application in good conditions.
The application creator works on both Iphone and Android, for Apple users you will need a MAC and the program called Xcode while Android users will simply need an APK generator. Although the free designs on offer are not the most impressive, they can easily serve as a basis for developing simple applications and offer plenty of customization possibilities.
AppyPie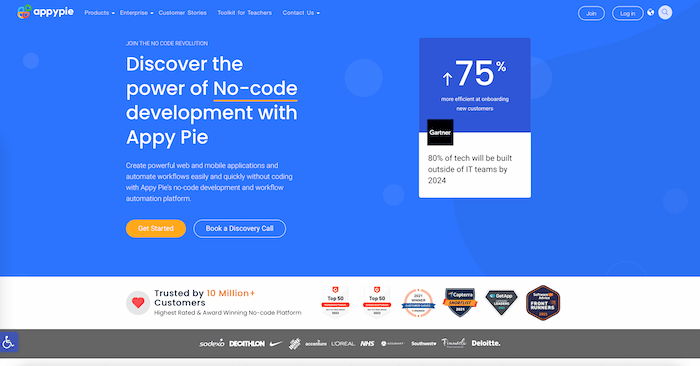 AppyPie is an internationally recognized platform that has already helped more than 3 million people create a full-featured mobile App with only visual elements. The application is compatible with both Android and Apple and has a PWA feature that allows good quality display even through a computer's web browser.
The principle of operation of AppyPie is very simple. You start your project with predefined applications, and then you can integrate the many features that are offered by AppyPie. All these features are categorized and grouped into different categories. Thus, we find access features for Social, others for Multimedia or E-commerce.
Social features allow you to add directory listings with forms, member cards and much more. All these features can be customized on the different pages that make up your mobile App. Despite its many advantages, the free version of AppyPie is limited to less than 5,000 downloads and is not available on iOS. You'll have to upgrade to the paid version starting at $36 per app per month to take your app to the next level.
Thunkable: the intuitive platform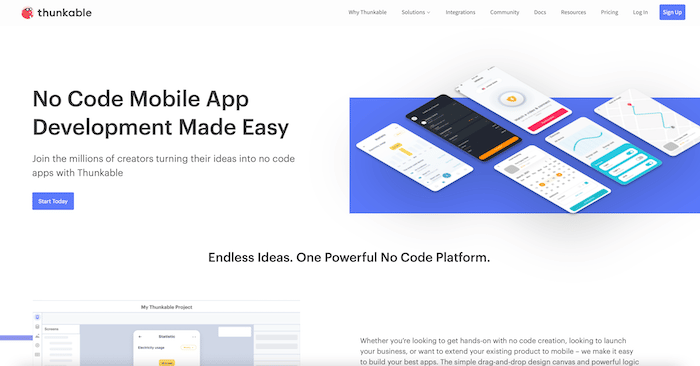 For those who have already slightly ventured into the meanders of programming, there is a good chance that you have heard of the Scratch platform. A platform that uses a block-based interface that makes it easier to create applications while learning to program at the same time. Thunkable's interface seems to be very strongly inspired by the idea of Scratch in order to allow the simplified creation of mobile Apps.
In addition to allowing you to create a mobile App in a simple and fast way, you will certainly learn some tricks and some development notions that can be useful later on. Basic applications are indeed relatively easy to create with these different tools. Thunkable offers a clear and fluid interface that allows you to simplify your life while perfecting your mobile App design.
The solution exists in both free and paid versions. The free version is already very complete and allows you to test your project without having to pay a single cent. If the project takes life, you are free to upgrade to the higher packages to give it more depth, but also more capacity for its development.
A paid tool to create a mobile App without coding
In addition to the free solutions, there are also paid solutions that offer a large number of features. These are generally more advanced and allow to go further in the customization, but also in the type of application.
BuildFire : The specialist of extensions for mobile Apps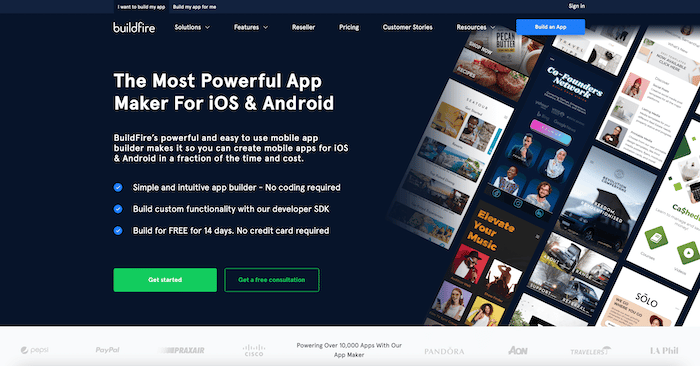 BuildFire features an ingenious plugin system. The creation of your mobile App therefore starts with a selection of plugins and widgets that allow you to meet all basic functionality needs. If you want to create an e-commerce application, it is for example possible to do so simply by integrating directly with Shopify, Square and Paypal solutions for example.
The interface is very flexible and allows you to create a homepage, but also content pages. You can then add a number of features and content that you can publish. This can be blog posts, notifications, profiles of certain users and much more. All of this is made even easier by the fact that you can rely on certain templates that allow you to already have a basic functional form.
However, the prices are not within everyone's reach, count nearly 159$ per month for the basic package. You must therefore be sure of the quality of your project, but also of its feasibility through the platform so as not to invest at a loss in such a solution.
Our tip to create a mobile App without coding
Creating a mobile app without coding isn't necessarily for everyone. You need some basic knowledge, and although there are many code generators, not all of them can do exactly what you need.
You'll have to make do with the various widgets that are made available to you, which may not meet your expectations.
You will then get in touch with dozens of competent freelancers who are ready to realize your project in a totally customized way while benefiting from the security offered by the platform. The publication of the project is completely free and allows you to entrust your mobile App in the hands of a professional without you having to do anything more.
This way you can focus on your core business or do other more important tasks without having to hire a new person in your company or spend months learning programming languages to finally bring the mobile App you want to life.