Prestashop does not need to be introduced anymore. As one of the most widely used e-commerce CMS, the Prestashop platform is at the origin of thousands of successful product stores. The logical development of these stores in order to respond to technological developments then quickly turned to mobile Apps in order to reach a younger target, but also more extensive for each product.
Indeed, the share of people who use a smartphone to make their purchases is increasing every year and online stores cannot miss this ever increasing share of potential buyers. They have to create a page that allows payment, but also a mobile adapted functionality so that the navigation is fluid and the company can improve its user experience through its various sites.
How to create a mobile app to transpose your Prestashop e-commerce site into an app?
To transpose your e-commerce site into a Prestashop store, several solutions are available to you. The simplest solution is to use the platform features to generate your application. This avoids the complete creation of a mobile App.
Indeed, Prestashop has integrated to its platform an application code generator that allows you to propel your store on Google Playstore and Apple Store in just a few clicks. A quick and easy way to boost your sales without having to spend money.
You need to go to the backoffice of your Prestashop store by adding a module in the "Modules and services" tab. Then you have to click on "Add a new module" and select the PrestApp module. The application is native and its design is simple and uncluttered, it allows an excellent management of the store and each customer in addition to allowing the integration of push notifications.
Get the token and the API key
Once the PrestApp plug-in is installed on the platform, it will be visible on Prestashop. Click on "Configure" and retrieve the API key and the token to enter these two data in the PrestApp back office.
This operation will allow you to connect the Prestashop store with your application compatible with Android and iOS, but also on your site in mobile version. In this way, the interaction made on your site or on the application will be recognized by the platform and will allow you to make transactions directly through the mobile app which represents today more than half of the e-commerce exchanges.
Connect the store with PrestApp
To connect your store with PrestApp, the first thing to do is to identify yourself on the back office of PrestApp. It is through this interface that he will be able to finalize the connection between the two supports. If you have an account, use the Login box, otherwise you just have to create an account.
PrestApp is the tool that will allow you to generate your application without needing any development skills. You just have to fill in some information and the tool will do the rest for you. You will then have the possibility to customize your app through different parameters that allow you to reinforce the image of your site on smartphone.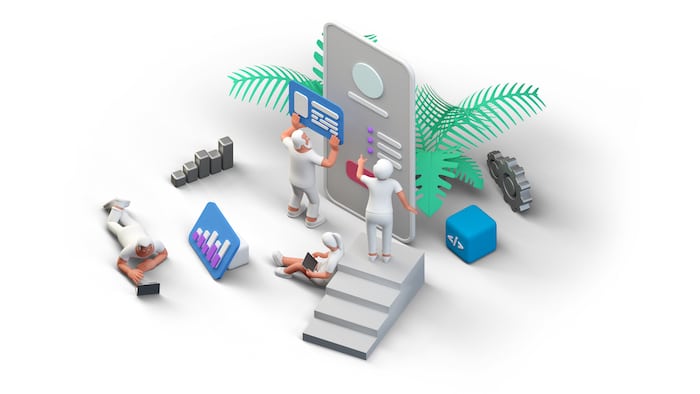 Prestashop's mobile app generator is very powerful and allows you to get a mobile app specially tailored to your needs. You will have to insert the two data collected previously, choose the type of protocol you want to use for your store, namely HTTP or HTTPS without forgetting to enter the URL of your store.
Once you have entered these data, all you have to do is click on the "Create" button and your mobile site will be automatically deployed thanks to a sub-domain of your website. The mobile app is also generated automatically, you just have to publish it on the Apple Store and Google Playstore to make it available to everyone.
Get an overview for customization
Once your Prestashop mobile app has been generated, it will appear in the PrestApp backoffice. It is possible to generate apps for multiple stores from the same account. If you want to be able to configure a particular app in order to customize it, just click on the "Configure" button.
A menu will open and you will be able to discover all the features that are available, but also all the customization tools that allow you to make your app unique, both on iOS and Android or even on your mobile site.
Stand out with other free and compatible application generators
The main drawback of the code generator directly integrated on Prestashop is that it generates the same application every time. Despite the different customization data, it is difficult to really stand out from the competition with your mobile App. This choice can have a negative effect on the conversion rate and on the sales performance of the mobile app.
To overcome this problem, it is possible to use other platforms that also generate the code for a compatible application completely free of charge. The advantage is that you get a different interface that allows your store to stand out on mobile devices.
Appypie: a solution to make your Prestashop mobile App stand out from the rest
Appypie is a platform that allows you to generate your mobile App for free. In a few clicks, you can get a professional rendering with many customization parameters.
An alternative solution that can bring a real plus and allow your brand to separate itself from a classic store by reinforcing your image and bringing a higher level of customization.
The principle of operation is the same as with PrestApp, except that the rendering differs and therefore allows your users not to recognize at first glance an application automatically generated by Prestashop. It is enough that a competitor or another site has created a bad experience with the user through this interface to make you lose the sale which can be detrimental to your conversion rate, especially if you are positioned on a competitive market.
The platform automatically generates the code, guides you in an intuitive way and saves you time. A paid version is also available to take your application to the next level. You will have access to more features, but also more customization parameters in order to give your application a unique feeling, although it will not really be unique. Nevertheless, application generators are only suitable for simple applications that don't require extensive functionality or a high level of customization.
If you want to take your application to the next level, the application generators can quickly get stuck. You'll need to hire a professional who can develop a custom solution for your store. This allows you to strengthen your brand image even more and to have total control over your application which becomes totally unique.
You just have to register on a freelance platform and propose a mission directly online for free. freelance mobile developers will then get in touch with you, and you can discuss with them their vision of the project, but it also allows you to compare different quotes in a simple and quick way.
You will get quotes. Keep in mind that each freelancer is rated by clients who can leave reviews. You can therefore count on the testimonies of a vast network of professionals in order to entrust your project to the right people and thus put all the chances on your side.
Our tip to create a mobile App from your Prestashop site
To create a mobile App from Prestashop, several solutions are available to you. The application generators will be perfect if you have a store in the making and you don't have a budget to allocate to its development.
Your application will be simple, without any particular features, but will remain functional and will allow your users to navigate on your store in a simple and fast way. However, the solution quickly shows its limits when you need to develop your brand image through a more advanced level of customization.