Here is one of the big dilemmas when you want to build your digital visibility. The preference for a mobile website or a mobile App is based on different issues and investments that can tip the balance to one side or the other.
But as is often the case in marketing and communication, nothing is all black and white. Where an application has certain advantages, the website will bring other benefits. It's all a question of context, market, consumers and business strategy.
Let's look at the nuances together so that you can correctly orient yourself and choose the right digital medium.
The main differences between the app and the mobile website
Between these 2 "solutions to your digital visibility issues", we will find several important differences.
Accessibility
Where a website is simply accessible from a search engine like Google, a mobile App will require a download to be used.
This makes it less accessible, especially since it will not be available on a computer, unless it has been developed for. The website, even if it is not designed for mobile, will be accessible from a smartphone, but the browsing experience may be very bad.
Attention: It is important to note that some applications can be available offline, without Internet, and thus allow to simplify the access compared to a website depending on a connection.
Is it really a big advantage, where today the connection to the Internet in France via mobile is well extended? We leave you to judge.
Integration into everyday life
The advantage of the mobile App is that it can, if it is well thought out, fit into the daily life of its users and integrate naturally with other existing applications such as SMS, Emails, Phone calls, Camera or GPS.


The website is more limited, although it can request access to the camera or other applications.
It remains less "naturally" integrated on the smartphone than the application designed for, with the application's behavior often based on notification systems and other alerts that keep users active.
Maintenance and back-office
In terms of maintenance and back-office management, everything will depend on how your site or application was developed.
If we consider that a website is easier to update (especially because the application requires an additional download from the mobile user), the application is native and therefore does not threaten to change the design, unlike a mobile website (often an adaptation of the desktop website) which may experience some difficulties of adaptations.
The lifespan of an application is on the other hand shorter than that of a website, notably due to the functional differences and the final utility between the two.
Cost of creation
This is always the big question that is difficult to answer, as costs can vary so much depending on the needs in UX design, webdesign or development.
What is certain is that the adaptation of a desktop website to a mobile website must be thought of from the design of the desktop website (principle of responsive).
This is how you can benefit from the best user experience and the best behavior in terms of adaptation. In fact, apart from a few tweaks, the investment is reasonable for a mobile site.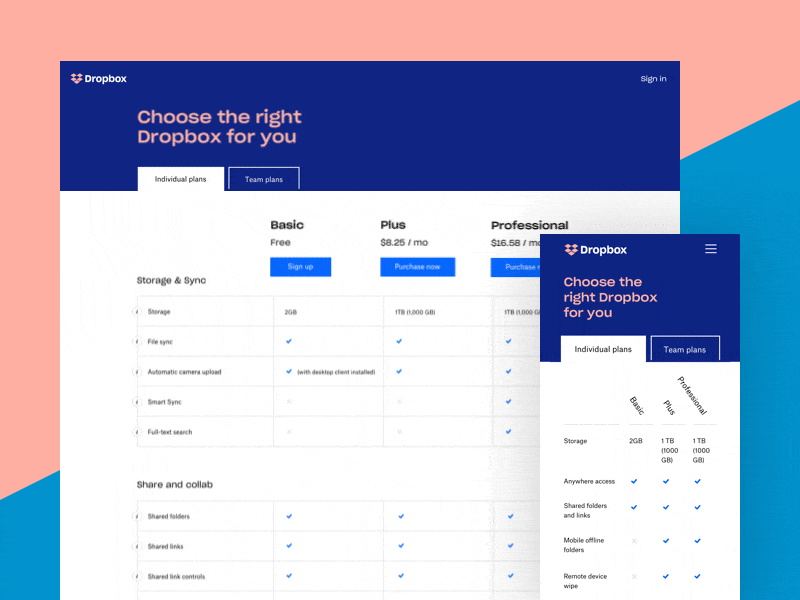 Regarding the application, it is necessary to start from scratch, as they say, and to design everything with a specific development according to the operating system. For example, if you want to be available for an iPhone and a Samsung, you will have to develop for both iOS and Android, which will multiply the costs.
Generally speaking, the cost of the mobile App is therefore higher than that of the mobile website, due to the specificity of the development, but also to its different end use (as we will discuss below).
8 advantages of mobile apps over websites
1. A more personalized experience
With a mobile App, it is easier to offer a personalized experience to its users. As soon as they are installed, mobile Apps offer you to set up your profile to personalize it according to your tastes, habits or goals.
For example, users of an application can decide when they want to receive notifications, their recurrence and the type of content they want to receive.
On mobile, the user is more likely to spend time filling out their profile and answering questions that will personalize their experience on the app.
2. Send notifications
In terms of marketing strategy, there is no better tool than mobile notifications to say hello to your users from time to time and remind them that you exist.
There are two types of notifications. In-app notifications can only be sent if the user has opened the application or is browsing it. As for push notifications, they can be sent to the user's phone at any time, as long as the user has agreed to receive them in the application's settings.
Push and in-app notifications are valuable marketing tools. However, it is essential to think carefully about your strategy to avoid sending them too often and avoid annoying users.
3. Smoother and faster navigation on mobile
mobile Apps are developed for use on mobile. Compared to a website, we sort out the information we decide to display or not and the most adapted functionalities to a mobile use are put forward through a thoughtful ergonomics.
When you already have a website and you develop a mobile App, you don't duplicate your website, you offer a new experience and a new way to use your service.
The advantages of mobile Apps over websites is that mobile Apps are designed to offer a fluid and ergonomic journey but above all a quality user experience.
4. Better customer loyalty
Our mobile is the object we always have close to us. The mobile App appears as a great relationship marketing tool because the user is likely to see the logo of your application several times a day on his mobile screen.
Especially since a mobile App offers a much more personalized experience to users than a website. And who says personalization says loyalty because users will be more likely to spend time on a custom application, according to their habits and goals.
5. Ensure your brand's presence
On mobile, we tend to spend a lot more time on our apps than on the web. We use them every day. Just seeing an app icon on mobile acts as a reminder of a brand.
One can almost say that the mini logo of the mobile App functions as a non-aggressive advertisement of a brand. By opening his phone every day, the user is likely to see the app's icon and he unconsciously memorizes it. The brand becomes embedded in his mind.
6. Develop a strategy
Many features present on mobile Apps promote the links between the digital and physical presence of a brand. For example, a user's customer account can list his loyalty points and card on the wallet of his mobile App that he can scan in store.
Some brands are bridging the gap between their physical store and their mobile app with click and collect, which has become very trendy in recent years. Moreover, with the geolocation feature of our mobiles, brands can send a promo code to users via a notification when they are near one of its stores.
Finally, after an in-store purchase, brands can also invite their users to give feedback by sending them a notification on their mobile app. Developing a strategy is very relevant for brands that want to maximize their in-store traffic and it is one of the Advantages of mobile apps over websites.
7. Use mobile features for a better experience
The mobile being a connected object, it has a lot of features such as a GPS, an NFC chip, a compass, a camera or an audio recorder.
These are all features you can use through your mobile App to create a unique experience.
8. Be able to monetize your mobile App
It's easier to make money creating a mobile app than a website.
In most cases, mobile Apps offer a freemium version that allows users to use part of the application's services. But when the user wants to have access to all the services of the application, he will have to choose a premium subscription.
You can also monetize a mobile App with advertising. This is the option most often used by mobile game applications, which often bombard us with advertising videos. It all depends on the business model of the application.
Why not create both?
This could be an interesting solution, provided that 2 main points are taken into consideration:
The mobile App should not have the same utility as the website Otherwise, its interest is extremely limited and users will turn to one or the other, without using them fully. Keep in mind the needs of your users and meet them through the necessary support(s).
It is important to estimate the cost/benefit ratio This is obviously one of the most important things to do. The creation of a mobile website and an application involves a cost, varying according to what will be developed.
However, creating a website and an app for your brand involves estimating the cost/benefit ratio, and what they will both bring to your business.
We find ourselves in line with the first point around one and the same question: what will be the usefulness of the website and/or the application?
This question of choosing between application and mobile website is complicated to deal with. Often, they will not have the same purpose or the same use and are therefore difficult to compare.
Generally, we consider that a company must have, at least, a clean and consistent corporate website to properly reflect what it does and seeks to convey. The adaptation of the website in mobile must therefore be well executed, especially with the expectations of Internet users and Google in terms of responsive.
Regarding the application, the value it will bring you and your customers is the central element to decide in favor or not. Because making an application to be in the trend is anyway not a relevant solution.
Our tip for choosing between a mobile app or a mobile site
A real craze for mobile Apps has largely developed in recent years. However, choosing between a mobile App or a responsive website depends mostly on the nature of your business and the service you offer.
If you have an e-commerce website, we strongly advise you to develop a responsive website. For a dating site, the ideal is to opt for a mobile App.