When you know that 90% of the time spent on a cell phone is spent on applications, you quickly understand the importance for a company to have its own application.
However, the churn rate in the first month of use is close to 60%. And yes, a mobile user is intransigent and if he is not completely satisfied with the product or its design, he uninstalls it.
What is mobile App design?
To promote the download of your mobile App by many users, one thing is sure, take care of its design is essential. We explain you what is strictly speaking the mobile App design And why it's so important in 2022.
Deep thinking around mobile design
The mobile App design is to offer a unique experience to users of a mobile App. The elements that participate in the creation of this experience for the user are: navigation, ergonomics, performance or simplicity of the mobile App.
Taking an interest in your users to better understand them is a good way to know what they like in order to offer them the best possible experience. The mobile App design It is ultimately what makes people want to use and spend time on an application.
The differences between UI design and UX design
When we talk about UI (User Interface), we are referring to the interface design of a mobile App. This stage of design takes into account all the elements that participate in the ergonomics, graphics and layout of elements on a mobile App. The role of the UI designer is to offer the users of a mobile App a pleasant interface with a good hierarchy of contents.
When we talk about the notion of UX (User Experience), we talk about the way to design a mobile App so that its use is optimal for users. The UX designer thinks about simplicity of use, intuitiveness and functionality. His main objective is that the user easily finds the information that interests him by optimizing his navigation.
How to successfully design your application?
You don't want your app to be one of those as quickly downloaded as uninstalled, so here are 12 tips to take care of your mobile app design.
1. Make a good impression, as soon as you install the application
The first use of an application by a user is often the most decisive moment: will the application be liked or uninstalled?
It is more than necessary to succeed in onboarding, and for this, your mobile App will have to have an intuitive design and introduce users to the most interesting and attractive features.
Warning: Even if you want to guide your users, be careful not to make the initiation too complicated or too advanced.
To make a good impression, design your application keeping in mind that future users will not know how to use it and will not know the features available to them.

2. Keep in mind the purpose of the app when designing it
Many apps are developed to only follow a trend rather than to solve a real problem. Your app should have a purpose and should offer a unique service.
The purpose you determine will integrally influence the development and design of your mobile app and guide you in your decision making.
If your objective is clear, users will understand the added value you bring them. If not, your application will be considered useless and therefore… uninstalled.

3. Think navigation before design
When developing an application, be careful not to skip any steps.
The design of the application is a very exciting part because this is when your product takes shape. But have you thought through the navigation of your users?
The structure of your application and the navigation paths should be carefully thought out by creating wireframes for example. A lack of organization and a navigation that lacks fluidity will drive your users away.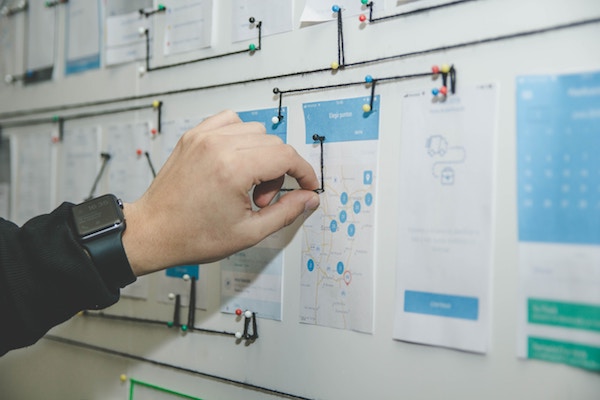 4. Do not add too many features
Mobile app platforms already offer a lot of resources to users, so you don't need to do that. Your app should not be a Swiss Army knife.
Offering too many features is not a good thing because:
You risk to disorient your user
You will deteriorate the user experience
Your application will be more difficult to market
It is advisable to make prototypes of your application to highlight the features that are essential and those that seem excessive. You should also be able to explain your application quickly and concisely.
Try to convince your users with only one or two features before testing new additions for later versions.
5. Think about the context of use of the application
The goals and design should be thought through with the context of use of your application in mind.
Think first about your future users. Younger people will certainly find intuitive features while others will find these same features difficult to understand.
Then think about the situations where your application will be used by asking yourself the following questions:
Does it need to be accessible quickly for a very short time?
Does it have a lot of content to allow users to stay longer?
How will the design reflect the context of use?
6. Keep it simple
Many try to distinguish themselves from other applications with an original design. But original does not mean complicated.
Even if you want to make your elements attractive, remember that they should add value to the user experience.
Opt for a reductive design by asking yourself throughout the design of your application "How can I remove this element?"
Also, avoid revisiting standard elements of a mobile app. Some icons are often visual cues and make the application intuitive.
Finally, leave some white space as a cluttered interface is not very user-friendly.

7. Offer a dark mode
The official launch of Android 10 and iOS 13 featured "dark mode" in their respective user interfaces. Both Apple and Google have been devoting their resources and attention to a dark mode for over a year. Mobile app designers must now embrace what has become a new standard for users.
Research shows that 87% of smartphone users use their phones every night within an hour of going to bed, when night mode is active. In addition, users have the option to set dark mode as their default interface style. 50% of iPhone users have already updated to iOS 13, so a growing number of users are browsing the App Store in dark mode.
How to design your app's dark mode?
There are a few things to consider when optimizing for night mode. First of all, Apple's guidelines. The company actually has specific guidelines and advice for developers who want to adapt their applications to dark mode.
Because the Dark Mode user interface provides a different contrast to the visual elements, you should consider the following design approaches:
Soften the color of white backgrounds to prevent them from shining and contrasting strongly with the surrounding black.
A dark theme should not consist of white text on a black background. When you add the dark mode to your application, it is safer to use dark gray as the main color for the dark mode components, as this reduces eye strain. It is also much easier to look at shadows on a gray surface than on a black surface.
Saturated colors that look great on light surfaces can "vibrate" on the dark background, making text extremely difficult to read.
Remember that the design blends into the App Store user interface
8. Be consistent
If you still opt for a revamped design for your app, make sure to keep consistency between your different elements.
Your text should also be formatted the same way across the different "pages" of your mobile app.

9. Do not abuse notifications
Push notifications are very useful to communicate with your users. However, many people deactivate them because they consider their sending frequency too high.
Besides the number of notifications sent, their quality is equally important. You should send useful notifications, such as reminders or tips.
10. Optimize your design to stand out in app stores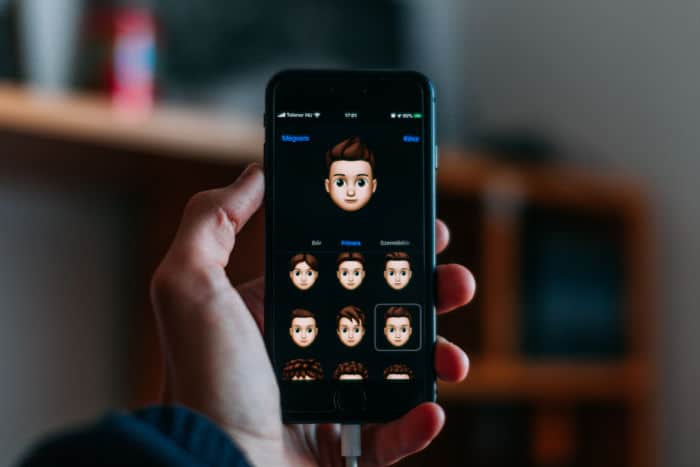 It's important to know that 70% of app installs on the App Store come from search. This means that the way an app appears in search results can have a significant impact on its success. So how apps stand out in design when users search is critical.
In general, app designers need to follow the best practices for app store optimization. When designing screenshots or icons, they should study the market and identify trends that drive conversions. There may be certain color palettes, design elements, messages, etc. that users respond well to.
Other best practices include:
Highlighting a different aspect of the application with each screenshot, starting with the essential features.
Include a prominent callout text for each image.
Incorporate keywords in the call text, so users can see how their searches led them to that application.
Ensure that use the ten screenshots allowed.
Keep in mind that the first three screenshots are the most important for conversion from search results.
11. Don't forget your design budget
You have plenty of ideas for your app, that's great. But first of all, think about your budget.
Your developers and designers will be able to tell you very quickly if you have enough resources to implement your application as you see it. If so, you can find solutions and alternatives to fit your budget.
Estimate the budget needed to design your mobile App with our price simulator.
12. Perform A/B Tests
You think you have finished your application? Don't market it without doing some A/B testing.
A common mistake is to test the mobile App yourself or with your team. But it is essential to offer it to new eyes, it will not make you lose time, on the contrary.
You will be able to quickly detect errors, missing elements, useless features, those that are not understood, etc. Ideally, you should perform tests at each stage of your application's development to quickly make the necessary changes.
Run A/B tests to see if the conversion rate changes based on your design, or hold focus groups to see how users react to your design choices.
If you have a dark mode planned for your mobile app, it's essential to test the performance of your designs in both light and dark modes. This may require adjusting graphic elements or colors to find the right balance, as what works well in one mode may not perform as well in the other.

Why is it important to work on your mobile App design?
The application design mobile is the key element that will allow you to increase the number of your downloads and increase the average time of your users on your application. We take care of the design of a mobile App to meet the following objectives:
simplify the use of the application for the users
improve user comfort to satisfy their experience
guide users to easily find the content they are looking for
Increase your app's mobile conversion rates (get more leads, more sales or bookings)
3 tools to create mobile app wireframes
Adobe XD
Part of the Adobe Creative Cloud Suite, Adobe XD allows you to create mobile app wireframes by creating realistic, animated prototypes. Its intuitiveness and ease of use make Adobe XD a must-have software.
Figma
Wireframe creation software, Figma is appreciated by more and more designers. Its little plus is its optimal collaborative functionality allowing a team of designers to work at the same time on the same mobile App design.
Axure
Axure is an all-in-one software for creating prototypes of mobile App design. Its many features give the possibility to design interactive wireframes ready to be tested. We like it especially for the ease of concretizing and conceptualizing ideas that it offers to its users.
Our tip
In this article we have discussed two crucial topics for a successful design of your mobile App: on the one hand the design of the application itself, which can become a strong argument if it is successful, or a turn-off if your application turns out to be unusable, because of a too arduous and counter-intuitive navigation for example.
Then, the sinews of war: visibility in the app stores. If your application is successful, the design of your screenshots and its presentation in mobile App search engines must also be well done!
It would be a shame to miss out on the many users looking for an application like yours to meet their needs.